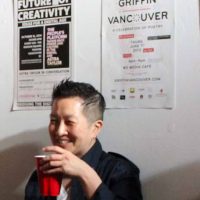 Candie Tanaka
Executive Director and Creative Technologist
Candie Tanaka (@candietanaka) & candietanaka.com is a Writer, Artist and Entrepreneur with experience in startup culture, 3D printing, makerspaces and various forms of technology.
Candie has a BFA in Intermedia and studied Sculpture with Emily Carr Institute of Art and Design. They also have a certificate in New Media Design and Web Development from BCIT and recently completed the Writer's Studio Program at SFU.
The International Centre of Arts and Technology partners with many talented organizations and individuals to bring literary programming and events into Vancouver's Literary Makerspace.